Today is the big day. Polls are open across Israel from 7AM to 10PM (1AM – 4PM Eastern) as Israelis cast their votes in an election that, by all estimates, is too close to call. In the final polls released a few days ago, it looks as though the left-leaning Zionist Union will surprisingly beat out Benjamin Netanyahu's right-wing Likud, but only time will tell.
This blog will be updated throughout the day with coverage of the election. Email [email protected] with any questions, comments, or reactions, and we'll do our best to answer/publish them.
---
10:55 PM 99.5% of the results are in:
Likud: 29
Zionist Union: 24
Joint Arab list: 14
Yesh Atid: 11
Kulanu: 10
Jewish Home: 8
Shas: 7
United Torah Judaism: 7
Yisrael Beytenu: 6
Meretz: 4
Yahad, a right-wing party, appears to have missed the threshold.
10:15 PM 90% of the precincts have now reported, and here's how it looks:
Likud: 30
Zionist Union: 24
Joint Arab list: 13
Yesh Atid: 11
Kulanu: 10
Jewish Home: 8
Shas: 7
Yisrael Beytenu: 6
United Torah Judaism: 6
Meretz: 4
10:07 PM 81% of the precincts have reported, and here's how it looks:
Likud: 31
Zionist Union: 24
Yesh Atid: 11
Joint Arab list: 11
Kulanu: 10
Jewish Home: 8
Shas: 8
Yisrael Beytenu: 6
United Torah Judaism: 6
Meretz: 5
7:58 PM Netanyahu addressed a group of supporters:
"Dear friends, against all odds we have achieved a great victory for Likud, for the national camp which is headed by Likud, for our people. I am proud of the Israeli people, who recognized what's important … and stood up for real security, economy and social welfare, which we are committed to.

"This is what's important to… everyone, Jews and non-Jews alike … All of you are important to me.

"Now we must form a strong and stable government that will care for the security and welfare of all of Israel's citizens."
6:06 PM A Likud MK claims Kulanu will back Netanyahu.
Hanegbi says Moshe Kahlon will go with Netanyahu because he is a true Likudnik.

— Steve Linde (@stevelinde) March 17, 2015
6:03 PM A Hamas official released a statement, saying the election results show Israel is not committed to a Palestinian state."The results should be enough to convince the Palestinian Authority and Fatah Party to forget about the choice of keeping the absurd negotiations," he said.
6:00 PM Isaac Herzog, the leader of the Zionist Union, is reportedly in talks with other party leaders about forming a coalition government that excludes Netanyahu. (Haaretz)
5:23 PM Big concession from Likud:
"Netanyahu doesn't want a unity government, but sometimes you find yourself with no choice. In this case, the most likely scenario is that the prime minister will agree to pay Zionist Union a heavy price, among other things, leaving Bennett or Lieberman in the opposition, to make it easier for Herzog to make the move agreeable for his party."
As the math looks right now – and remember,  its still early – it will be difficult for either party to form a coalition. The most likely scenario is the Zionist Union coming together with Likud, which could mean Isaac Herzog and Netanyahu rotating as prime minister. That leaves a question: who goes first?
4:50 PM Here are the reactions from the two major parties:
Zionist Union:
"Likud keeps misleading. The rightist bloc has shrunk. Everything is possible until the real results are in, when we can know which parties passed the electoral threshold and which government we can form. All the spins and statements are premature. A negotiating team has been formed in an effort to form a government led by Herzog."
Likud:
"Against all odds, a great victory for Likud, a great victory for the nationalist camp headed by Likud, a great victory for the nation of Israel."
4:43 PM Here are the average results from the exit polls (full results here):
4:23 PM A note on what will happen next:
Once the official results are in, President Reuven Rivlin will poll party leaders to see who they want to form a coalition. Whoever gets the most recommendations will have the first chance to form a coalition. As of now, it is unclear who will receive the most recommendations, and what parties are willing to form coalitions with whom. Considering both Likud and the Zionist Union received more seats than expected, and will likely have about the same amount of seats, forming a coalition could become a messy process. It could take over a month.
4:14 PM A lot just happened very quickly; here are a few takeaways:
The initial results being posted are exit polls. These are not official results, which will not be known for a few hours and possibly not until tomorrow. However, unlike in the U.S., exit polls in Israel are relatively precise considering it is such a small country.

It looks as though Netanyahu survived the election without a stinging defeat, as many polls were suggesting. It is impossible to tell whether or not the Zionist Union or Likud will have the most seats, but it is safe to say it will be very, very close either way.

The Joint Arab list and Kulanu did very well, and may have performed better than expected.

It looks as though Likud's positive performance may have been at the expense of other right-wing parties. The math concerning left v. right parties is pretty much as expected.

The next few weeks will be intense. There are paths towards a coalition for both the Zionist Union and Likud, but a lot is still to be decided. The exit polls have no clear answers. We're going to have to wait.
4:08 PM Long way to go, but it looks as though Netanyahu avoided a stinging defeat.
Cheers of "Bibi, Bibi" and "heide Bibi" at Likud

— Lahav Harkov (@LahavHarkov) March 17, 2015
4:06 PM Here's your takeaway. More analysis to come.
The result is: No result! We'll have to wait until the final results Thrusday to know even who had the biggest party – if there is one!

— Niv Elis (@TelANiv) March 17, 2015
4:03 PM And these from the Knesset Channel.
Knesset Channel: ZU 27 Likud 26 TJL 13 YA 12 Kulanu 10 Bennett 9 Shas 7 UTJ 6 Meretz 5 YB 5

— Lahav Harkov (@LahavHarkov) March 17, 2015
4:02 PM More exit polls, this one from Channel 2. These are early results, but already surprising.
Channel 2 Likud 28 ZU 27 TJL 13 YA 12 Kulanu 9 BY 8 Shas 7 UTJ 6 YB 5 Meretz 5

— Lahav Harkov (@LahavHarkov) March 17, 2015
4:01 PM The first exit polls are in from Channel 10. Here's how it looks:
Likud: 27
Zionist Union: 27
Joint List (Arab parties): 13
Yesh Atid: 11
Kulanu: 10
Jewish Home: 8
United Torah Judaism: 7
Shas: 7
Meretz: 5
Yisrael Beytenu: 5
4:00 PM That's it. Polls have closed in Israel. Results will start trickling in any moment, and we'll have full coverage here. Rumors are indicating that Likud may have closed the gap between itself and the Zionist Union, and that the Arab parties and Kulanu performed better than expected. Again, those are just rumors. No one really knows that the results are about to show.
3:56 PM Not entirely sure what this means. Stay tuned. Four minutes to go.
Folks, if the rumors of exit polls are true, it's going to be ugly. No one will be happy.

— Allison K. Sommer (@AllisonKSommer) March 17, 2015
3:53 PM The Joint Arab party is fired up.
"We will get 15 mandates; and we hope to send Liberman and Yishai out of the #Knesset" – Ayman Odeh #IsraElex. pic.twitter.com/yV73Mtj51Q

— Seth Frantzman (@sfrantzman) March 17, 2015
3:50 PM At 3PM (8PM in Israel) polls closed for prisoners. The final turnout rate was above 80%, well above the national average. This piece from The Jerusalem Post tells the story.
3:44 PM Zionist Union officials are voicing "very careful optimism" about the day's results, adding they had relatively good turnout amongst their base. (Haaretz)
3:40 PM Arab List feeling confident. Polls had them at about 13; party leader predicts they did even better.
"We have gotten to 65% turnout an we a the the 3rd largest; we will get 14 or more mandates" – Ayman Odeh #BREAKING #IsraElex #happeningnow

— Seth Frantzman (@sfrantzman) March 17, 2015
3:37 PM About 20 minutes to go, and the rumors are flying.
All rumors of course. Heard Kahlon getting anywhere between 8 and 15 and that Meretz, Lieberman, Yachad have all/none been wiped out #pt

— Anshel Pfeffer (@AnshelPfeffer) March 17, 2015
3:25 PM Word from Likud Headquarters is that Netanyahu has closed the gap.
As we countdown the last hour at Likud HQ crazy rumors going around about exit polls. All have Netanyahu nearly or totally closing the gap.

— Anshel Pfeffer (@AnshelPfeffer) March 17, 2015
3:18 PM The leader of Yahad, a right-wing party, said he had been notified his party is thousands of votes short of the electoral threshold. That could be a big blow for the right.
3:14 PM More evidence Kulanu is doing well. The big question is: where are the gains coming from? The most likely answer is Likud, considering the head of Kulanu is a former Likud minister and the party has more of an allegiance to the right.
Kulanu insiders very upbeat about today's forthcoming results. — Niv Elis (@TelANiv) March 17, 2015
3:08 PM With less than an hour to go, the general consensus amongst reporters is that this election can go any way. Anshel Pfeffer at Haaretz compiled a nice list of seven possibilities once the results start coming in. Most, as expected, revolve around the decision of Kulanu, who is reportedly performing very well.
2:50 PM Kulanu, a centrist party, reportedly performed well ahead of expectations. They have not yet indicated what party they will support, but have openly expressed hostility towards Benjamin Netanyahu. A win for the Zionist Union?
Kulanu insiders preparing for great news. Expect upwards of 13 seats. — Niv Elis (@TelANiv) March 17, 2015
2:48 PM According to The Upshot blog, this election is truly a statistical tossup – and we don't see that very often.
2:45 PM Some perspective for Americans.
Voter turnout passes up turnout from 2 years ago at this time. Already 65.7%. That # will never happen in the US! And there's 2 hours left! — Gil Hoffman (@Gil_Hoffman) March 17, 2015
2:39 PM  Two hours before polls were set to close, voter turnout was at 65.7%, up from 63.9% in 2013.
2:31 PM Hamas has endorsed the Joint List of Arab parties, and called on Israel's Arabs to get out and vote.
We ask all our supporters with followers in the occupied land, ask them personally to go and vote for @Ayman_Odeh_TJL ! 2 hours left! — Ezzedeen Al-Qassam (@qassamenglish) March 17, 2015
2:16 PM As expected, looks like some of the marginal parties may not reach the threshold. Question is: where did those votes end up?
2:02 PM Let the drama begin.
Feels like its gonna be a long night. Mixed data from pollsters. Herzog camp "deeply worried". — Ben Caspit (@BenCaspit) March 17, 2015
1:55 PM Hard to verify, but this is our first hint of results.
Channel 2 now reporting that Likud seems to be bridging the gap with Zionist Union, according to leaked exit polls — Steve Linde (@stevelinde) March 17, 2015
1:51 PM In a Facebook post, Meretz leader Zehava Gal-On said Prime Minister Netanyahu's remarks about Arab voters were "unacceptable, even if it had come from a marginal politician, but when the prime minister of Israel dares to call the votes of 20% of the population a threat that must be acted against, when he describes their exercising their democratic rights as if they are an enemy invading the country, he transforms himself into unsuitable to serve in this role,  regardless of the election results today."
1:37 PM Benjamin Netanyahu angrily responded to the Central Election Committee's decision to bar his speech tonight, which ruled it was illegal election propaganda. Here's an excerpt of what he said:
 "While Tzipi and Buji have interviewed on all the television stations all day long, the first that they decided to ban the broadcast of was the prime minister. They will not shut our mouths. The prime minister will put out his comments on the Internet."

"I'm asking you to do just one thing, those who haven't voted go vote [Likud] … Bring your relatives, neighbors, friends, everyone to vote [Likud]. If you want me as a prime minister and you don't want Herzog and his partner Livni atop a leftist government with the support iof the Arabs, you must vote [Likud], [Likud] and again [Likud]."
1:37 PM Might be too late to influence the election, but this should make Likud voters happy.
#Obama says chances of reaching nuke deal with Iran has shrunk under 50% — David Brinn (@davidbjpost) March 17, 2015
1:33 PM Still 2.5 hours left, but Likud is apparently not so optimistic.
Channel 2's Udi Segal reports that Likud headquarters preparing for low-key event tonight, perhaps even a loss. — Steve Linde (@stevelinde) March 17, 2015
1:21 PM Turnout is now at 54.6%, still a bit below 2013 levels. But a note: This year, the Central Election Committee is collecting actual turnout rates; they are not, as they did in previous years, taking a random sample. Thus, these numbers are more accurate.
12:43 PM Looks like things might be getting a bit violent…
The bloods vs. the Crips as #Shas and #Yahad volunteers brawl at polling station in Jerusalem's Ramot neighborhood – Israel Radio — David Brinn (@davidbjpost) March 17, 2015
23 yr old man arrested for making threats to MK and former defense minister Amir Peretz at a voting station in Sderot #Israelelex — Ben Hartman (@Benhartman) March 17, 2015
12:24 PM A live broadcasted statement from Benjamin Netanyahu later this evening has been banned by the Central Elections Commission. It was ruled election propaganda and thus banned under Israeli election law.
12:21 PM 51 criminal cases have been opened for voting fraud across Israel. (JPost)
Likud MK Ze'ev Elkin's grandfather, Arkadi Verchovsky, died at age 90 at his polling place in Neve Ya'akov, immediately after voting.

Verchovsky was a veteran of World War II who fought in the Red Army. He moved to Israel from the US in 2004.

Elkin told Ma'ariv that his grandfather was active until his last day, and even went out to convince his neighbors to vote for Likud last week.
11:30 AM The European Council on Foreign Relations (a think tank) has released a list of possible coalitions based on the last round of polling. As expected, most scenarios point to a re-election for Netanyahu, but there are paths open for the Zionist Union to take over.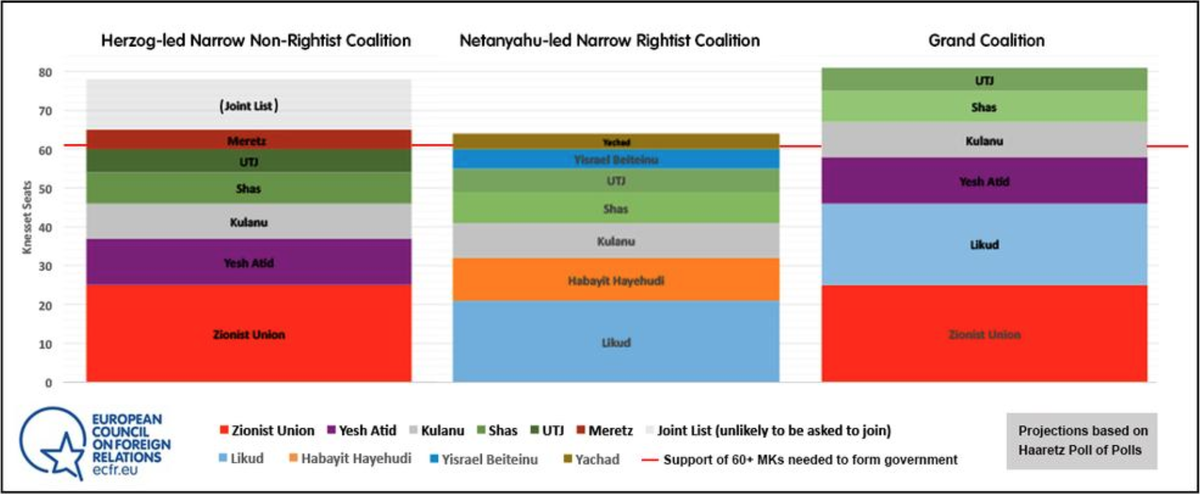 11:24 AM According to CNN, the Kulanu party had some strong words of condemnation for Netanyahu's video about Arab voters (posted below). The comments are significant; Kulanu may be an integral party for either side in forming a coalition.
Kulanu party tells CNN Bibi's Arab video "clearly shows @netanuahu is feeling the pressure " Remarks "inappropriate and regrettable"

— Elise Labott (@eliselabottcnn) March 17, 2015
11:09 AM  The Jerusalem Post asked Benjamin Netanyahu and Isaac Herzog to make their plea to voters. Here's a summary of what each candidate said.
Netanyahu:
World powers are about to sign a nuclear agreement with Iran; vote for me and I will stop it.

Under the Netanyahu government, unemployment has decreased, the minimum wage was raised, and a bunch of other positive economic measures were put in place. The opposition has only made empty campaign promises.

This is a big campaign. The left is well-funded and helped by foreign organizations. The Arabs are coming out to vote. It's important to vote Likud to stand up against international pressure.
Herzog:
He will ensure housing is more affordable and lower the cost of living for all Israelis.

He will strengthen ties with the U.S. in order to fight Israel's enemies and ensure Iran does not get a nuclear weapon.

Gaza will be demilitarized and rebuilt, and peace talks will be resumed with the Palestinians.
10:57 AM Voter turnout currently stands at 45.4%, a bit below 2013 levels but well above levels in '09 and '06. (Haaretz)
10:45 AM Good morning! Here are some updates from what happened over night:
Voter turnout currently stands at around 37%. In other words, most voting is still yet to come.

The Central Elections Committee ordered Shas (an Ultra-Orthodox party) to cease distributing flyers claiming that Rabbi Ovadia Yosef says a vote for Shas is a key to heaven.

A candidate for the joint Arab list petitioned the government to remove Likud from the campaign, saying they were inciting racism. Here's the statement:

"A prime minister who campaigns against voting by citizens belonging to an ethnic minority is crossing a red line of incitement and racism. This is especially severe on Election Day, when the message to Israeli citizens is to participate in the elections, vote, and take part in the democratic system. A statement like that, issued by the prime minister, shows that he has completely lost his way and that he is ready to break all the principles of democracy to safeguard his regime."

Benjamin Netanyahu released a video saying the right-wing is "in danger."
1:48 AM Point of clarification on Israel's election procedure, per Haaretz: "Any slates [parties] that receive less than this amount [the electoral threshold] will be discounted, as will their votes."
1:38 AM Benjamin Netanyahu and his wife have cast their votes.
1:18 AM According to the Jerusalem Post, exit polls will not be made public until 10PM Israeli time (4PM on the East Coast). Official results won't be made public until March 25, and coalition building will formally begin next week. The President, Reuven Rivlin, will start receiving calls as soon as the election results are in in an effort to build a coalition as soon as possible.
Also noteworthy: this election is expected to have the highest turnout rate since 1999. Turnout is expected to be around 80% (by contrast, the U.S. usually sits around 60% for a presidential election). This is a big election and people know it.
1:06 AM Polls have opened in Israel. Voting will occur until 10PM (4PM Eastern time) when results will start trickling in. We'll be keeping an eye on exit polls as they start to get released. Here are some things to look out for throughout the day:
The performance of Likud and the Zionist Union will be the biggest story coming out of today's elections. Nearly all polls have the Zionist Union leading, but the big question is: by how many?

In the days leading up to the election, Benjamin Netanyahu was desperately trying to court conservative voters. His declaration yesterday that there would be no Palestinian state if he was re-elected was a clear challenge to the Jewish Home party, a nationalist, right-wing party that has been stealing votes from Likud. Keep an eye on whether or not Netanyahu was successful in garnering more conservative votes.

In this election, the threshold – the amount of seats a party has to win in order to gain representation in parliament – was raised to four seats. Three parties – Meretz (left-wing), Yahad (right-wing), and Yisrael Beytenu (right-wing) – are in danger of not reaching the threshold. If any of those parties miss the threshold, it could have massive implications once it comes time to build a coalition.